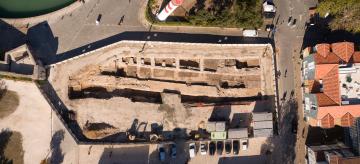 Si

la première mention de La Rochelle apparaît dans une charte de l'abbaye Saint-Cyprien de Poitiers (998-1000), la ville ne se développe véritablement qu'à partir du XII

e

siècle. La première enceinte de ville, probablement fondée dans les années 1160-70, permet d'asseoir le statut de cette nouvelle cité portuaire qui s'émancipe progressivement des pouvoirs locaux, notamment au début du XIII

e

siècle en englobant deux nouveaux quartiers - Saint-Jean du Perrot et Saint-Nicolas.
CONTEXTE HISTORIQUE
Le quartier du Gabut, situé entre le rivage et le quartier Saint-Nicolas, est partiellement intégré à la ville à la fin du XIV

e

siècle, suite à la construction d'une nouvelle enceinte reliant la tour Saint-Nicolas à la porte du même nom. Ce secteur de la ville se développe ensuite progressivement. Des bâtiments très allongés (corderies, magasins pour l'artillerie) sont en effet représentés sur les plans de la période moderne et perdurent jusqu'au démantèlement de l'enceinte, à la fin du XIX

e

siècle.
Read the rest of this article...