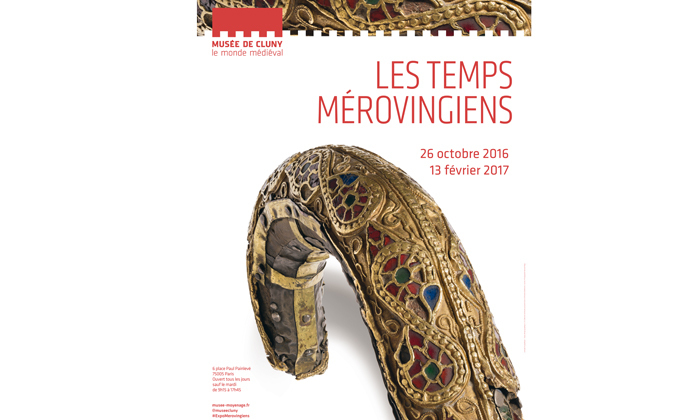 Les Temps mérovingiens
Musée de Cluny, Paris
Du 26 octobre 2016 au 13 février 2017
Le début du Moyen Âge est marqué par des formes d'expression originales, mais peu connues. L'exposition Les Temps mérovingiens éclaire cette période foisonnante, de trois cents ans (de la bataille des Champs catalauniques en 451 à la fin du règne des « rois fainéants » en 751), entre influence de l'empire romain et mise en place de nouvelles formes de pouvoir loin de l'image de « barbarie » qui leur était autrefois attachée.

Dans un dialogue inédit, manuscrits des VIIe et VIIIe siècles provenant notamment du département des Manuscrits de la Bibliothèque nationale de France, des bibliothèques de Laon et d'Autun, de la bibliothèque apostolique vaticane ou des Archives nationales de France entrent en résonance avec les collections du musée de Cluny et les prêts du musée d'Archéologie nationale de Saint-Germain-en-Laye, du British Museum, du musée jurassien d'art et d'histoire de Delémont ou encore du musée Alfred-Bonno de Chelles.
Les Temps mérovingiens est présentée dans le cadre majestueux du frigidarium des thermes gallo-romains.
Read the rest of this article...