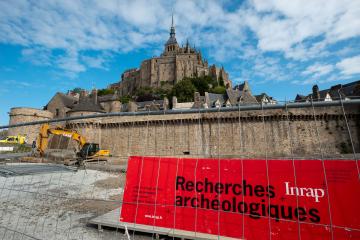 En 2005, une équipe de l'Inrap avait mis au jour de nombreux moules en schiste destinés à la fabrication d'enseignes de pèlerinage, à l'emplacement d'un atelier de production daté des XIVe-XVe siècles, près de l'entrée de l'abbaye. La variété et la qualité de ces pièces en font aujourd'hui une collection de référence en archéologie médiévale.
En 2011, les archéologues ont révélé les vestiges d'une tour des fortifications, la tour Denis, ouvrage édifié vers 1479 et détruit en 1732.
En 2015, d'anciennes maisons, donnant sur la grève et détruites en 1368, ont été étudiées.
Dans l'abbaye, l'Inrap a suivi plusieurs chantiers de restauration conduits par l'architecte en chef des Monuments historiques dont les opérations importantes menées sur la Merveille, sur l'ancienne Hôtellerie de Robert de Torigny et sur les Logis abbatiaux.
Aujourd'hui, la recherche des fortifications et de la porte du XIIIe siècle a permis la découverte, inattendue, du cimetière paroissial.
Read the rest of this article...